The Snowy Mountains are a range within the Great Mountains near Daventry. It was once known simply as the Mountain Range when northern Serenia (The North) and the bulk of the Great Mountains were moved beyond the Northern Sea by Harlin the Malevolent, leaving behind the Daventry continent.
Background
Edit
They lie to the north of the Kingdom of Daventry near the Door into Mountain. The range likely lies near the Westering Mountains.
The Snowy Mountains intersects with the Other World and the Sierra Mountains: Half Dome and Sierra water can be found here.
The location where Icebella's realm is is also referred to as the Snowy Mountain as well, and lies somewhere nearby the Half Dome. Suggesting that both areas are very close to each other.
Below the cliffs lies the Small Beach, location of the Landing Beach where Pirates often land to the west of Daventry.
The cliffs with the caves is roughly 700 foot high.
Geography
Edit
Below Cliff
Edit
Mountain Paths
Edit
Behind the scenes
Edit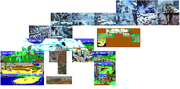 The "Snowy Mountains" is a name given for the mountains of KQ3 as found in the
Official Book of King's Quest
. They were referred to as the
Mountain Range
in the KQ3 Hintbook. In KQ3 the mountains are described as the 'snowy mountains' or the 'snowy mountain range', and 'great mountains'
[1]
.
The mountains in KQ5 are referred to as the Snowy Mountain in a few instances of the Official Book of King's Quest perhaps to link the areas together. The name Snowy Mountain was the name for the area on the official Sierra BBS hint system.[2] The mountains are described as the 'snowy mountains' a few times within KQ5 (though the title 'Great Mountains' proper is used as well).
The Frozen Reaches were to be known as the 'Frosty Mountains' at one point of KQ8's development.
References
Edit
Community content is available under
CC-BY-SA
unless otherwise noted.