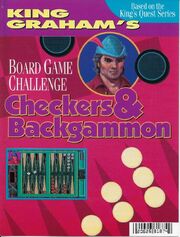 King Graham's Board Game Challenge: Checkers & Backgammon
(aka
King Graham's Challenge[1]
) is part of the Crazy Nick's Picks series of budget software. It is a board game challenge featuring the board games; checkers and backgammon.
Background
Edit
Good King Graham is not only a good king, he's a darn good game opponent.
King Graham challenges the player to see who can win the most games. The rules to both games are all the same and feature a difficulty level for beginner, average and expert. If you make a mistake, King Graham will give you some tips and will tell you when you can do something special in a game.
This was a King's Quest themed board game collection starring King Graham as the opponent was released as part of the Crazy Nick's Software Picks series of budget software. It includes two repackaged board games taken from Hoyle 3. King Graham is not just a good king, but a good game opponent. These represent two of King Graham's favorite games.
This game was re-released as part of several of the King's Quest collections.
Presented for your additional entertainment, herein lies a collection of computerized board games hand picked as King Grahams personal favorites.
Director: Bill Davis
Producers: Tammy Dargan, Tony Caudill
Software Supervisor: J. Mark Hood
Lead Programmer: Thaddeus M. Pritchard
Quality Assurance: Mike Brosius
Special Thanks: Randy MacNeill
References
Edit