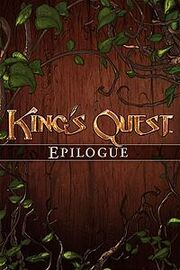 King's Quest: Epilogue (aka Chapter 6 or Episode 6)
A special playable chapter of the new King's Quest: Adventures of Graham, only included in the King's Quest: The Complete Collection edition.
Background
[
]
Enjoy this bonus King's Quest Playable Epilogue! Only available through Complete Collection purchase.
According to the developres the Epilogue is more of a bonus chapter not an ending.
Behind the scenes
[
]
This is also known as Chapter 6 in some of the materials and file names, and by Sierra/Activision themselves.[1] It's also referred to as Chapter 6 on the Playstation store website.
This may have seen been added to 'Season Pass": owners as well in some formats. It's advertised as such on the PlayStation Store. It is not available with the Steam Season Pass.
References
[
]