Jurassic World: Dominion Dominates Fandom Wikis - The Loop
Play Sound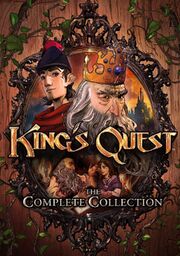 King's Quest: Adventures of Graham (aka King's Quest: The Complete Collection or King's Quest, and King's Quest Game Series) is an episodic reboot of the 'King's Quest' series, a reimagining of the original saga by The Odd Gentlemen for the new Sierra Entertainment (an Activision subsidiary, after Activision acquired all Sierra licenses from Vivendi.).[1][2][3][4], King's Quest Chapters[5]) is divided into five chapters ('episodes') and choices made in each passes to the next chapter. The first chapter was released on July 28, 2015, and the rest of the chapters were released between 2015 and 2016.
The new series is a reimagined reboot of the King's Quest franchise, therefore while it keeps several themes and characters from the original series it has changed them. The series has changed or modified ideas from the original canon in a number of ways since chapter[6], developing its own universe canon separate from the original series.[7]
The 2015 reboot can be bought at the Steam Store, Humble Bundle Playstation Store (for PS3 and PS4), and Microsoft Store (for Xbox 360 and Xbox One).
Background
[
]
Adventures of Graham (The Complete Collection)
[
]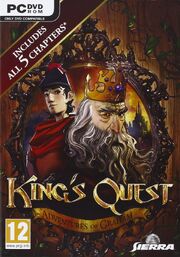 The Legend Returns... King Graham reflects on his greatest adventures through five chapter releases. Choose between the noble pillars of Bravery, Wisdom, and Compassion to see the rippling effects. Unforgettable storytelling, wit, puzzles, and of course plenty of deaths!
Developed by The Odd Gentlemen, the new King's Quest™ reimagines all the charm, humor, puzzles, exploration and sense of wonder that made the franchise so magical when it first arrived thirty years ago. Old and grey, King Graham Cracker – the hero made legend in the original King's Quest games – shares the extraordinary stories of his youth with his curious granddaughter, Gwendolyn, taking players back to the feats that shaped a kingdom.
The series is not a strict remake of Graham's old adventures but contains both 'previously' untold ones and completely reimagined and reinterpreted retellings of the classic stories. The original series are the fairy tales and legends, and this series sets the record straight.
Chapters
[
]
Each Chapter will be sold separately but the playable Epilogue only comes with the "King's Quest: The Complete Collection", a version that includes all chapters.
This is the tale of the First Quest. An aging King Graham reflects on a life of adventure with his granddaughter, Gwendolyn, taking players back to his teen years and his quest to become a knight of Daventry in King Edward's royal guard. Discover a wondrous world full of whimsical characters, charming puzzles and perilous dangers in this fun and enchanting coming of age story.
About the Second Quest. In this latest adventure, King Graham takes players back to his first test as ruler of Daventry. When a mischievous horde of goblins takes his kingdom hostage, a newly crowned & woefully unprepared Graham must rise up to free his people & prove himself the leader he was destined to become. Will Graham & his friends unearth a way to escape their rock-brained captors? Will he take for granite everything he learned as an adventurer? Does he have the stones to reclaim his mantle & lead his kingdom to safety? Will the hat make it out ok?
King Graham's wife and Gwendolyn's grandmother, Queen Valanice. Dedicated fans may think they know the legend of how Graham rescued his future bride from the wicked witch Hagatha's tower but the truth behind the fairy-tale is much more complicated!
The Fourth Quest, On a fateful night King Graham and Queen Valanice's infant child Alexander was stolen from them. When Alexander mysteriously returns home 18 years later, however, Graham must decide how to reconnect with the boy he's spent a lifetime searching for. And as father and son work together to solve the towering challenges of the puzzling Ice Palace, questions linger about just what happened all those years ago.
The story of the Fifth Quest looks back on King Graham, now an old man even in flashbacks, preparing to go on one last adventure for the kingdom he loves. But as his health deteriorates, can Graham's memories still be trusted?
Name
[
]
Note: The game is sometimes called "King's Quest 2015", "King's Quest (2015)" or "KQ2015" by fans because the first episode was released in 2015. The developers find this 'title' misleading, as chapters were released in both 2015 and 2016. They have instead called it the King's Quest reboot, or 'reimagined King's Quest' to differentiate from the others.
Note: As of the latest patch the games dating lists it as 2015-2016 Sierra Entertainment.
King's Quest: Adventures of Graham
[
]
King's Quest: Adventures of Graham[8][9][10]appears to be the title for the first season as it will be released in future dvd or blue ray box sets (PC, PS3, and Xbox). It is not clear if this release will have the Epilogue episode. Some sites list a separate King's Quest: Adventures of Graham Complete Collection, which appears to suggest that there is a difference between standard box sets, and ones that will have the epilogue. Currently this title is listed on North American organization ESRB (Entertainment Software Rating Board) with two listings below:
King's Quest: Adventures of Graham
Platform: Windows PC, PlayStation 4, Xbox One[11]
Platform: PlayStation 3, Xbox 360[12]
Rating Category: E 10+ (Everone 10+)
Content Descriptors: Fantasy Violence
Rating Summary: This is an adventure game in which players assume the role of a knight (Graham) as he navigates the kingdom of Daventry. As players explore the open world, they solve puzzles, interact with characters, and engage in various tasks. Some scenes allow players to aim a bow and arrow at goblins or a dragon; goblins are depicted throwing spears at the player's character. Puzzle fail-scenarios depict the player's character falling into chasms or a river, being crushed by a boulder, and getting struck on the head with a mace.
Other North American ESRB ratings can be found at this link.
The Entertainment Software Rating Board (ESRB) is a self-regulatory organization that assigns age and content ratings, enforces industry-adopted advertising guidelines, and ensures responsible online privacy principles for computer and video games in the United States, nearly all of Canada, and Mexico.
King's Quest: The Complete Collection

[

]
A special digital release with all five episodes + an extra playable Epilogue.
New King's Quest/King's Quest: The New Series

[

]
A description/title used in some of the press releases.[13][14]
King's Quest 9

[

]
Some sites call this game King's Quest 9 or King's Quest IX. But as noted according to the developers this game is not intended to be the actual King's Quest IX, leaving room for a future sequel to KQ8.
It's going to be hard to make a King's Quest IX because everyone's so attached. The directive was to do a reimagining anyway."
The game is completely reimagined; it's not King's Quest IX or anything like that," Korba explains. "Think about it like when someone reimagines The Wizard of Oz, or Peter Pan. That's how I see King's Quest, [as one of] those classic fairy tales that keep being retold and reimagined."
King's Quest: Your Legacy Awaits
[
]
Some news were calling the name of the game tentatively as King's Quest: Your Legacy Awaits[15][16][17], . However this was not intended to be the game's subtitle, but actually just a 'marketing' catchphrase/marketing slug. The trailer as uploaded by Sierra Games on YouTube did seem to support that it is a subtitle (though this may just be a name of the trailer).[18] However was is a tentative title at best.[19] Multiple websites called it by King's Quest: Your Legacy Awaits in their previews.
Note: When Sierra and GOG ran the joint official King's Quest Giveaway sweepstakes on this wiki to win copies of the game, they also referred to the game as "King's Quest: Your Legacy Awaits" in giveaway explanation as well.
King's Quest: Game Series
[
]
Some of the advertising is referring to the complete series as the "King's Quest Game Series". Though this title may include all future seasons as well. Note: This wiki currently uses "KQGS" for main categorization (and lesser chapters use something such as "KQC1") Using "KQ9" at this point should be avoided).
Gameplay
[
]

The first chapter, and some elements of later chapters had elements of 3D action and platforming. But in most cases these are done with interactive prompts via the onscreen contextual button changes (it is not actual platforming, and each jump is automatically animated, much like rock jumping at the waterfall in KQ5).
The game with a mix of Disney-style artwork, and cel-shaded graphics. Some 2-d side scrolling elements, but is said to have similar puzzles and characters to the original game. Some of the material appears to cover elements at various points in Graham's life including a retelling of his hunt for the magic mirror.[20] It is not a point-and-click game and there is no use of the mouse (instead interface will show which button to push, depending on the situation).
There is a hand (pickup or push prompt (pushing a tree)), a speech prompt, and an action prompt (for the case of unique actions usually having to do with special walking or jumping across rocks), and a look prompt as well.
Reboot & Reimagining
[
]
The original website made referenced to the series being 'reimagined' the thirty-year old franchise. An additional comment (which has since been removed from the site) made it appear as if the series would tied to the original series, yet still independent in some way. This seemed to imply a more direct 'continuation' of the series:
And so begins an episodic saga that honors the core characters and familiar storylines of King Graham's early adventures, setting up new chapters tied to – but independent of – the series that helped define Sierra and the adventure genre. Through these tales, a whole new generation can finally experience one of gaming's most beloved journeys.[21]
The developers had previously said the old games were 'canon' as an influence, but this appears to only be in broad strokes (as the keyword is 'reimagining': anything can be retold, but won't be an exact 1:1 HD remake of anything that has gone before). Further more the old series are said to be seen as myths, legends and fairy tales, and what goes on in the new series are true stories.
"This isn't a reboot, and its not necessarily a sequel. It's a reimagining. Everything that exists in the past games is still canon." These stories exist between those stories. Over the course of the game players will experience Graham's previously unknown adventures. "We're definitely not retelling the old games...we're nodding to them and respecting them, but this isn't King's Quest 1 HD. The new scenarios deal with some of the blank spots in the King's Quest timeline. How did Graham become a knight in King Edward's Court? How did his young love with Valanice develop?
These tales from the past are framed by Graham's present; he is now a very old man, and he is recounting his adventures to his granddaughter, Gwendolyn. She's an energetic youngster who eats up the stories of Graham's exploits, and she is eager to have her own exciting stories to tell...
However the game as an episodic series is not strictly the next full size game in the franchise (but a series of smaller adventure games):
The game is completely reimagined; it's not King's Quest IX or anything like that," Korba explains. "Think about it like when someone reimagines The Wizard of Oz, or Peter Pan. That's how I see King's Quest, [as one of] those classic fairy tales that keep being retold and reimagined."
Despite Korba's use of "reimagining" Sierra Games PR (on Facebook) does refer to this series as a "reboot", and beyond that there is very little difference in the meaning of reimagining and reboot in the entertainment world. Many details including the alternate version of KQ1 dragon cave, to the alternate version of KQ2's story, alternate version of KQ3's story, to alternate backstory for Manannan all prove that this series exists in its own universe, rebooted and reinvented.
For more details concerning the differences between the original game universe and the new universe see:
Kolyma Enchanted Island comparisons
Press release
[
]
Confirmed as of 8/12/14.[22] It is was of the new games along with Geometry Wars to be produced by the newly revived Sierra On-line. This is the first game in the series to have no input from Roberta Williams, as she is retired.
In development by the beloved and quirky studio The Odd Gentlemen (The Misadventures of PB Winterbottom), "King's Quest" is a fully reimagined version of the fan-favorite Sierra game fit for both the old and new generation of "King's Quest" players. Huge fans of the original King's Quest series, The Odd Gentlemen are crafting a charming new adventure with an awe-inspiring art style, engaging puzzles, and a wondrous interactive narrative brimming with humor. In the new story, King Graham revered as the greatest adventurer to ever live shares his life's adventures with his curious granddaughter, Gwendolyn. It is through these tales that Gwendolyn discovers the true greatness of her grandfather. "King's Quest" is expected to make its heralded return in 2015. [23]
Reception
[
]
Before the games release, It was receiving quite a bit of good reception from the independent gaming mags and gaming aggregators. It was the number one game on the Adventuregamers.com's Hype-O-Meter (as of June, 2015). It has earned;
IGN - Best Adventure Game
CVGames - Best of E3
Game Informer - Best In Show
The Games Machine - Best of E3 2015
MetalEater - Best of E3 2015: Best Ludo-Narrative Innovation
MetalEater - Best of E3 2015: Best All-Ages Gamer
Twinfinite - Best of E3 2015 Award
Unreal - E3 Award
Gamer Headquarters - Best of Show
Gamer Headquarters - Best Digital Game
PC World - One of 10 Most Exciting PC Games at E3
Kotaku - One of the 6 Most Interesting Games of Day One
LA Times -One of 10 games that made a lasting impression at E3 2015
The complete collection has received largely 70s and 90s in reviews.[24] Most critics were more positive than negative for each chapter review (King's Quest Reboot reviews).
On steam it has largley 4 stars out of 5 from player reviews.[25]
Sales Numbers
[
]
There is no official indication of how well the series did as a whole (or what Activision would subjectively determine as 'successful' or not), but Steamspy (which only applies to Steam, and may not be wholly reliable) shows that it did comparably well compared to other adventure games in recent years selling almost 300,000 copies as of August, 2017 (most adventure games on steam sell for under 100,000, sometimes less than 30,000).
This puts its nearest competitor on steam Daedalic Entertainment's games, and some of the less successful Telltale games on steam such as Minecraft Adventures and Batman Season 1 (which range between 250,000 and 300,000). However it does not match the average numbers of most Tell Tales games in general (however many have been out longer, and have had a much longer time to sell copies over time), nor the sales numbers for Life is Strange (over 4 million).
This of course does not cover games sold on consoles PS3, PS4, Xbox 360/Xbox One. The game is steam exclusive and has not yet been added to places like GOG (which maybe a more popular platform for games of this style), however, Steam is still thought to be the more popular/well known platform.[26]
For comparison to other Activision games Call of Duty Black Ops 3 has over 1.5 million owners, and Infinite Warfare has a little over 430,000 as of August, 2017. Very few adventure games other than some of Tell Tale games (Game of Thrones) and Life as Strange even make it past the 600,000 in around the same period of time (GOT has over 651,000 as of August 2017).
Inspiration
[
]
The series appears to take ideas from many different fairy tales and movies. The Princess Bride is a inspiration in Chapter 1 and Chapter 5. Another movie said to have been been an inspiration is Big Fish which has a similar framing story of a grandfather telling his estranged son the story of his life, and the friends he made along the way, and how they had a big influence on his life before he passes away. The stories were often over the top and silly, fantastical and magical, modern fairy tale, but also became more dramatic and tragic he ages in his stories.[27][28] In both Big Fish and the Reboot it is left up to the viewer as to how much of the story is the truth, and how much embellishment simply for the sake of telling an entertaining story. "You see, most men, they'll tell a story straight through— it won't be complicated, but it won't be interesting either.-Ed Bloom, Big Fish"Likewise the classic games are treated as if they are just other people's embellished versions of Daventry's history. Terry Pratchett's Discworld is also said to be an inspiration.[29] Hagatha's Tower is likely based on Howl's Moving Castle with a touch of Baba Yaga's Hut.
In Chapter 2 there a number of references to various fairy tales including Cinderella, Frog Prince, Sword in the Stone, Gingerbread Witch, Big Bad Wolf, the Pied Piper, and many others.
In chapter 3 elements of Citizen Kane became influence in the design of the tower, and how it always looms large no matter how far away Graham is from it.
Apparently Breaking Bad was also an influence.[30]
The Last Unicorn or Flight of Dragons maybe influences as well as far as art style.[31]
Behind the scenes
[
]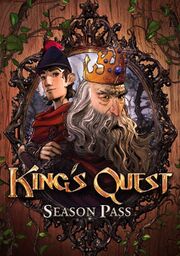 The Odd Gentlemen, the developers of The Misadventures of PB Winterbottom, handled the new King's Quest development. The "reimagined" King's Quest is comparable to other chapters in the series, with a similar narrative and puzzles that need to be solved throughout.[32][33]
"Then I talked to the guys at Activision and they were like, 'No, we're pulling it because we're going to do it ourselves,'" Trowe revealed. He doesn't know what the publisher's plans are for*King's Quest, but they don't seem to include either Telltale or Replay. We've reached out to Activision for comment and will update this post accordingly when we hear back.[34][35]
The framing story seems reminiscent of the the framing story for Aragorn's Quest which had Sam Gamgee telling the story of Aragorn to his young son, and other children.
The game is an 'adventure' but not a point and click game like the later games in the series.[36] (note depending on the system KQ1-4 are partial point and click and partial parser games, while KQ5-8 are point and click).
The team received some feedback and suggestions from Roberta and the Williams (though they have nothing to do with the actual development of the game)' family.[37]
To Matt and Lindsey, Bill and Scott,
I, too, wish to thank you for a lovely morning yesterday reliving – to some extent – my old life as a Sierra game designer. I admit that I was a bit skeptical at first, and also somewhat nervous because I haven't been in the computer game industry (notice I call it computer game industry rather that the video game industry; that shows how far back I go!) in too many years to contemplate! But you guys blew me away with your ideas, your creativity and the beauty of the newest King Quest game. But best of all, I could see that you truly are the ones to take King's Quest into the 21st century and reintroduce it to a whole new generation. You totally have it down!
I can't wait to see how it develops, I can't wait to play it myself – and I truly can't wait to see how it blows away the competition!!
Best to you –
Roberta
Roberta has since admitted she had only played chapter 1, and never went on with the rest of them. I enjoyed what I saw. But it just, it wasn't, it still just wasn't exactly it. And I just couldn't tell you exactly why. I can't put my finger on it. And it's been a while since I done that. It's been a couple of years, several years. Like five years, I think. So I can't right now, analyze it for you. But they were close, I think. They did as good as you could do, with someone else's game. My game. And to try to say what would Roberta have done, if we were her? And then try to figure that out. I think they did a really good job with what they had...and they gave it a really good go. But.. um... I still don't think they quite hit what today's modern players would want. And I don't know why, I can't analyze that for you. What do you think?" [the interviewer then leads her into negative position on the game]...which seems to disapoint her, and she reponds: "Ya... Well the fact that I didn't go on and play it might maybe say something... how about...Ya, It just, sort of missed it for me...a little bit...but I think they gave it a really good try. It's not easy to take up somebody else's work, and try to go on with it. ...and I really wanted them to, and I wanted it to do well. I think it did decent. Didn't it? It did decently well didn't it? (the other two interviewers take over from the first, "ya", and "I think so")... Roberta continues: "Ya, so, um, but ya... I, it didn't... there was something... But I don't wanna... I definitely don't wanna complain at all, or I'm very happy, that they tried, and they did the best they could, given all the circumstances."
External Links
[
]
References
[
]