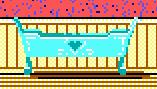 Hiram Bennet
is the Baby Ghost.
Background
Edit
He was young baby born, and who died in 1553. He was buried in the old Whateley graveyards in Innsmouth. His grave was brought over when the Whateley Manor was brought over from the Other World.
His grave stone reads;
To the ever living memory of Hiram Bennet,
baby son of Edward and Sarah Bennet,
who by a sudden-surprise fell asleep, the 11th day of November, 1553
Aged 6 months.
His ghost haunted nursery of the Whateley Manor, causing the rocking cradle to rock. Rosella returned the baby's silver rattle finally quieting his soul.
Community content is available under
CC-BY-SA
unless otherwise noted.