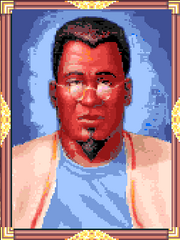 Hakim is the owner of the Pawn Shoppe on the Isle of the Crown. He offers a wide variety of knickknacks for trade at varying prices. He is also a wealth of information about the Land of the Green Isles, revealing that he has lived there for many years.
Background
Edit
When Alexander visited, he paid Hakim a copper coin to trade several objects as needed, including: a tinder box, a mechanical nightingale, a paintbrush, and a wooden flute. Some of the possessions of the ill-fated Green Isles wizard, Haroun alRaschid, ended up in his possession. Hakim also traded Alexander golden signet ring for the magic map, but accidentally threw away the invisible ink. Alexander later traded a huge oyster's pearl for the ring back.
Also, Hakim either was shocked by Alexander's attempt to fool the mysterious man in black into revealing his identity, truly believing he had committed suicide[1], or he realized Alexander's ploy, and played along to help him out.[2].
Titles and nicknames
Edit
Behind the scenes
Edit
An NPC in KQ VI. The character's name is not given in the game, he is known simply as the merchant or shopkeeper. His name is established in the King's Quest Companion. He and Ali the Book Seller may be named after Ali Hakim, the chauvinistic Persian peddler from Rogers and Hammerstein's "Oklahoma!" However, Ali is a common named shared by at least two individuals in the game. Hakim bears a striking resemblance to James Earl Jones.
Hakim has several exclamations which pay nods to his knowledge of the world (perhaps he has traveled a bit). He mentions desert sands (although there are no known deserts in the Green Isles), and he also thanks the "heavens" (implying an afterlife). There are things in his shop which may have originated around the world, including the mysterious California.
Alexander describes Hakim as "inscrutable," and the merchant has a wealth of information about the Isles themselves. The bowl of mints in his shop might be an innocent offering to customers, but it also seemed to keep Shamir too intoxicated to pry into whatever affairs the shopkeeper wanted to keep to himself.
References
Edit
Community content is available under
CC-BY-SA
unless otherwise noted.