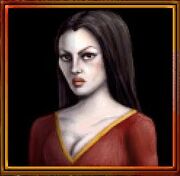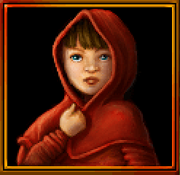 Anastasia (aka Possum ) is the vampiric human granddaughter of Lavidia and Caldaur in KQ2 (AGDI)). She was formerly a young human girl nicknamed Possum. Her parents were killed by Llowh'wof's brotherhood of wolves when she was a baby, and she lived with her grandmother.
As Possum she appeared to be a little girl in a red riding hood. She lost a basket of flowers somewhere in the forest, that she would like to return to her grandmother Lavidia.
When her grandmother Lavidia returned to Count Caldaur, Possum matured into a young woman wearing a red satin dress upon becoming vampire.
As the adult Anastasia she was trying to read the book "Little Red Riding Hood" wondering what it was about, and King Graham knew the story. This was to further separate her from the character of Red Riding Hood.
When Anastasia asked what it was that Graham sought, he explained his unsuccessful attempts to locate the tiara. She handed him Sleepy Hollow to Graham which she believed could point the way.
Behind the scenes
Edit
Possum's name is a reference to a children's book called "Possum Magic." This character was inspired by the character of Red Riding Hood in KQ2, though certain details surrounding her were modified and expanded. However she is never directly called that during the remake but instead goes by her nickname/alias, and becomes Anastasia later on.
Anastasia was the name of the lost princess of Russia, the youngest daughter of Czar Nicholas II. When her family was killed during the uprising, it was believed that she may have been one of the only survivors. Many people claimed to be, but none of them were ever confirmed.
When all the specific references made in the game are added up Anastasia between 18-28 (though she doesn't look much older than 12). The fact that Caldaur stopped ruling some 40-50 years before the story in 1646, and Anastasia was born in 1668 shortly before her parents death that year, would place KQ2 somewhere between 1686 and 1696. This would make Anastasia 18 on the low end to 28 on the high end. Llowh'wof's letter would correspond to a longer date, as the letter discussing their infiltration of the swamp was written over twenty years before the story.
Upon becoming a vampire, she grows into her age.